Accurate Placement was founded in 1996 to provide businesses with office staffing solutions with integrity, honesty and absolute professionalism each and every time.
Locally owned and located in the heart of Phoenix, we serve the entire Metropolitan Phoenix Valley area. We are located near the Metro Light Rail (Thomas & Central Station) for the convenience of many who utilize this system.
We have been ranked in the Phoenix Business Journal in the Top 25 under Temporary Help Services.
We have been ranked in the Arizona Business Magazine's Top Ten, Ranking Arizona, in both Temporary Staffing and Perm Placement categories.
The firm owner is a certified professional in staffing by the National Association of Personnel Services. Accurate Placement is certified as a SBE by the City of Phoenix and a DBE by Arizona Unified Program.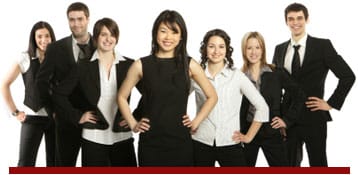 Karen Vandehei, CTS
President, Accurate Placement
As a Certified Temporary Staffing Specialist, Karen brings a high degree of knowledge and professionalism to each placement made within Accurate Placement.
You can be assured that with this certification, you will receive only the highest quality service. Karen's integrity and knowledge of the staffing industry are key traits which allow her and the Accurate Placement team to work side-by-side with client companies as business partners identifying only the best and most qualified candidates.
Recruitment and Applicant Screening Services:   We have a unique pricing structure that is affordable and makes sense to cut your staffing costs.  Our HR professionals work on an hourly rate which allows us to offer our services at a drastically reduced rate from traditional agency recruitment fees.
Temporary Staffing: We have been a preferred vendor for hundreds of companies and have developed a state-of-the art screening system that assures only the best temps for your company. This option covers both immediate and long-term needs, whether that is one day or one year.
Temp-to-Hire: This option gives you the opportunity to make an evaluation first-hand before making the final hiring decision. Additionally, employees starting as Temporary employees can be converted to Temp to Hire.
Payrolling Services: Positions us as the "employer of record" while you and the candidate you recruited determine your long-range compatibility. We offer direct deposit to employees and weekly paychecks.
In this competitive industry, it is our high standards that have made us so successful. We are thorough, selective, and guaranty our placements. We know talent when we see it, and we know how to match the right person to the right job.
You will find that…
We listen carefully.
We think critically.
We act with speed.
We pay close attention to the details.
Whether you are seeking talented employees, or seeking employment opportunities, please let us know how we can help you.